The holidays are coming soon. It's time to cook, bake, and entertain. If you're looking for the perfect holiday helper, look no further. Gallery Leather's recipe organizer is the perfect way to keep all of your favorite holiday recipes organized for years to come.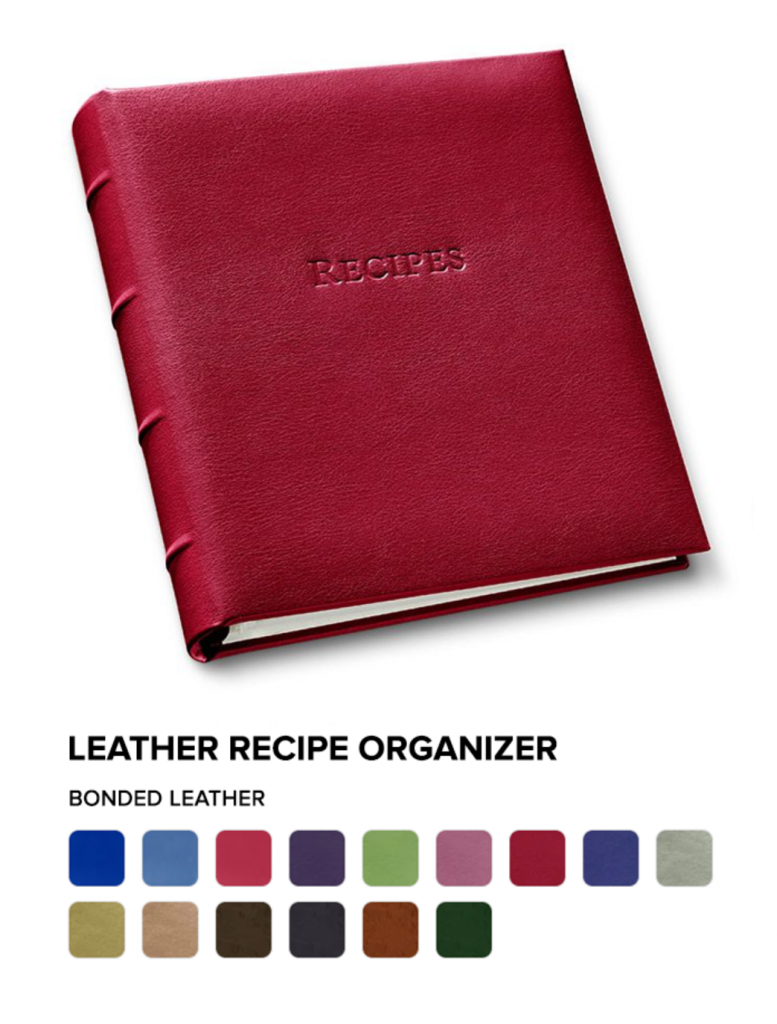 Our Leather Recipe Organizer holds 4 x 6 recipe cards, clippings, photos, and printouts in acid-free polypropylene pockets designed for easy viewing while protecting your favorite recipes from stains. With 25 pocket pages, our recipe organizer can hold up to 100 recipes. It also can hold a variety of inserts and other features to keep your recipes organized.
Here are six features of our recipe organizer you can use to organize your holiday recipes:
1. Journal Pages
A recipe book is more than a record of ingredients. Our journal pages let you reflect on life as seen from the kitchen. They're also ideal for writing down your grocery list to make sure that you have enough to serve all of your guests and still have leftovers. You can order a set of 20 pages separately to add to your recipe organizer easily with the ring-bound binder.
2. Recipe Cards
If you prefer to have your recipes written down on recipe cards, our perforated 4 x 6 recipe cards are attached to the recipe organizer's ring binder until needed. At 4 x 6, they are portable enough to share or bring to collect recipes at your holiday gathering.
After all, a fun way to collect new recipes is by sharing them with friends and family. To better allow for sharing, we sell sets of 10 pages with two cards each. They come as perforated sheets that can be used with our recipe organizer or on their own.
3. Mylar Tabs
For quick reference, our recipe organizer has Mylar tabbed dividers to better organize your recipes. Tab dividers included with our recipe organizers are for appetizers, soups and bread, salads and vegetables, meats, seafood, poultry, pasta and grains, and desserts.
Although our recipe organizers come with tab dividers for different food categories, we also sell them separately. That way, you can use them in a recipe organizer you already have, even if you didn't purchase it from us.
4. Pocket Pages
Making messes is an inevitable part of cooking. Having a way to protect your recipe cards can help them last longer and keep them organized. Gallery Leather has a solution for you with our recipe organizer pocket pages. We make our easy slip-in recipe pocket pages here in Maine using only acid-free, archival materials.
The pockets are sonic-sealed, without harmful adhesives, and constructed of 3 mm polypropylene film to reduce distortion for crystal clear recipe card viewing. Pockets can accommodate 4 x 6 index cards, recipe clippings, and photos. They can be used with our recipe organizer or any binder you own.
5. Custom Title Labels
Part of getting organized is labeling. Recipe organizers and albums can be labeled to reflect any title that will help you remember what is inside. These items can be arranged in alphabetical or numerical order. This makes it easier for you to refer back to recipes for specific items, like desserts or side dishes, for example. We can help you to get organized in this way as well.
You can have a name or other identifying information added to your recipe organizer when you personalize your purchase. However, if you already have one of our products that you would like to label, we offer custom title labels in bonded leather to match your item's material. Your kitchen will look and feel more organized once you label your recipe organizers.
6. Fashionable Colors
Like all of our products, Gallery Leather's recipe organizers come in many different colors and textures. Our recipe organizers currently come in 15 different colors. If you're not sure which color you'd like, we offer swatches to help you decide. To better organize your recipes, you can buy recipe organizers in multiple colors.
One customer enjoyed their recipe organizer so much they decided to order more:
"Have had these for years. I love the look, feel, and how it adds to my cooking experience. These are great! Love the different colors and how they are divided. Have several colors and thinking of purchasing another color. I've divided the colors into main dishes, desserts, appetizers, and beverages. Great quality. I have used them for over 15 years. Hold up great. Great gift idea also."
We know that holiday gatherings can be stressful. That's why Gallery Leather offers solutions to keep your recipes and your life more organized no matter the season. We hope that you'll consider adding Gallery Leather's recipe organizer to your kitchen this year. Shop our selection on our website today!