You're a busy person with a lot of important dates to remember. Fortunately, Gallery Leather offers planners in a variety of designs to meet your demanding schedule. We craft our planners using time-tested bookmaking techniques and quality materials.
We recently introduced our new Harbor line of planners. Harbor gives you several options to fit your budget and style without compromising on quality. We compiled some information on each of these planners to help you find the one that is right for you.
Gallery Leather Planners
Whether you want our premium line of Gallery Leather products or our value line of Harbor products, we have a planner to fit your budget and schedule. However, our loyal customers return year after year because our Gallery Leather planners are of such exceptional quality. We invite you to see for yourself why these customers keep coming back.
Here is some more information about our Gallery Leather planners:
Academic Planner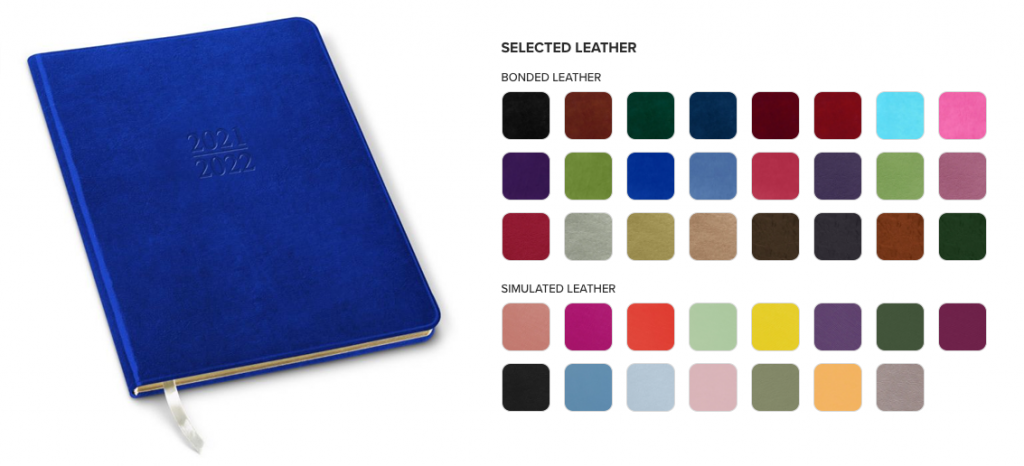 One of our most popular planners is our academic planner. It is not your usual wire and paper student planner. Our planners are bound in attractive, durable covers made from your choice of simulated or bonded leather. This planner is guaranteed to last for this school year and beyond.
Each book block is printed on acid-free paper, hand-sewn, and glued with a reinforced spine. At Gallery Leather, we know that accidents happen. Drop our planner from your bike or through the stadium seats. It will survive intact. Maybe with a bruise or two for character, but intact.
To help you study for your next exam, it includes reference sections and World Maps. At 9" x 7", this planner is the perfect size for your backpack or locker. Its 208 weekly format dated pages alternate with ruled journal pages to capture all the school day's details.
Ring-Bound Planner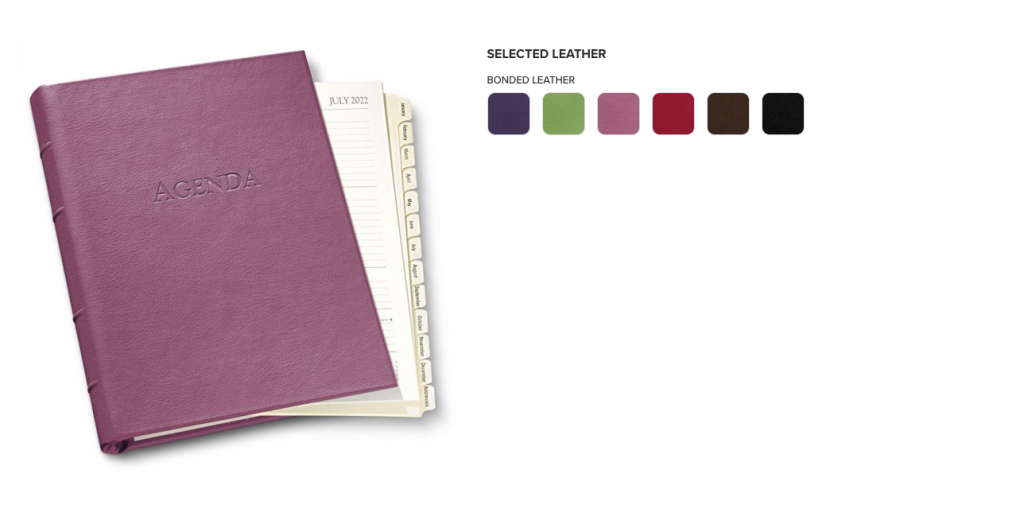 If you want more room for growth, our ring-bound planner offers just that. You can refill this planner from year to year. Hardbound in bonded leather, it comes with our most recent weekly format planner pages, including months at a glance with Mylar tabbed monthly dividers.
Beyond those dates, we offer refills compatible with most ring-bound planners, even if you didn't buy them from us. The refillable nature of this planner makes it more than just a calendar. It has an address section, reference section, and notes section. It is a truly all-in-one product.
Family Planner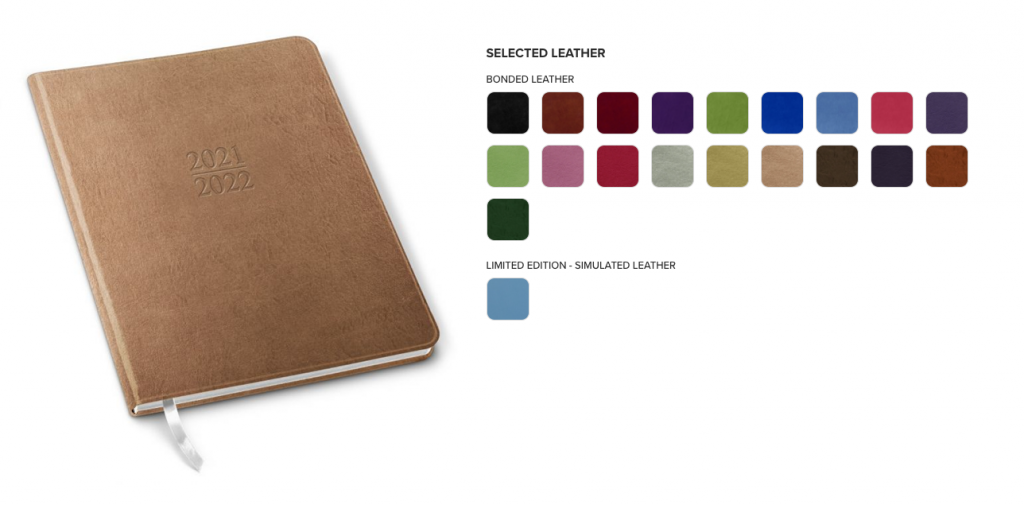 Our family planner is the perfect addition to your family. The hybrid SUV of planners includes a weekly planner that gives you 18 months of planning capability all in one book. At 208 pages, it has room for all of your important dates and more.
Bound in bonded leather, this planner packs family-friendly features in a compact design. It includes a family reference section, 192 perforated removable list pages, a notes section, a reference section with time zones, area codes, travel toll-free numbers, websites, and more.
Professional Planner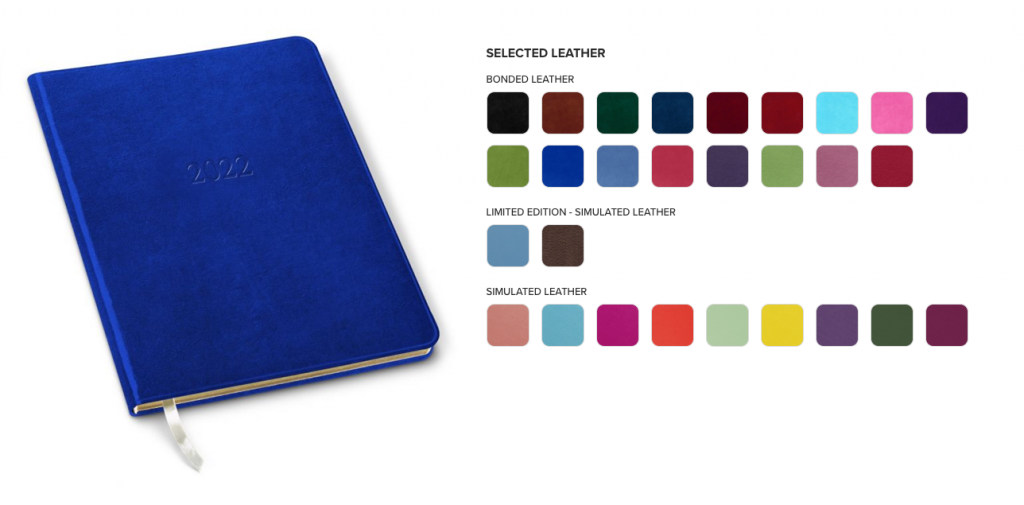 Our professional planner is an investment that promises a great return. Each week at a glance is presented in an easy-to-read vertical format. Days are divided into ½ hour increments from 7 AM to 7 PM. Extra space at the beginning of each day is ideal for scheduling that 6 AM flight.
Additional monthly formatted pages for viewing your schedule from 30,000 feet are also included. Like our other planners, personalization is available on this item. Choose between our simulated or bonded leather for an even more stylish addition to your office.
Undated Planners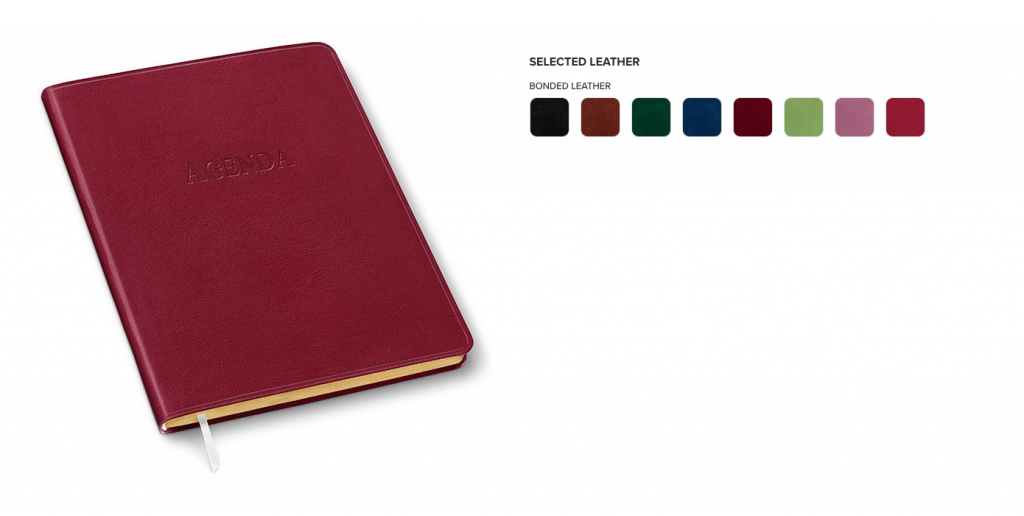 Is one hand busy with a phone or a child? No problem. Built with the same attention to detail and quality materials as our dated planners, our undated planners are crafted to last a lifetime. Available in either traditional book-bound or pad formats, they offer the ultimate flexibility in scheduling.
The pad planner makes an attractive, elegant accent to any home office, kitchen, den, or family room. Micro-perforated pages can be folded back to preserve previous weeks until the end of the year. You can quickly and cleanly tear off weeks as you finish with them.
The book-bound undated planner has a daily format. This format allows you to plan, celebrate, and record 365 days, one day at a time. Its open format design encourages professional planning, goal setting, thoughtful journaling, or some of each.
Desk Planners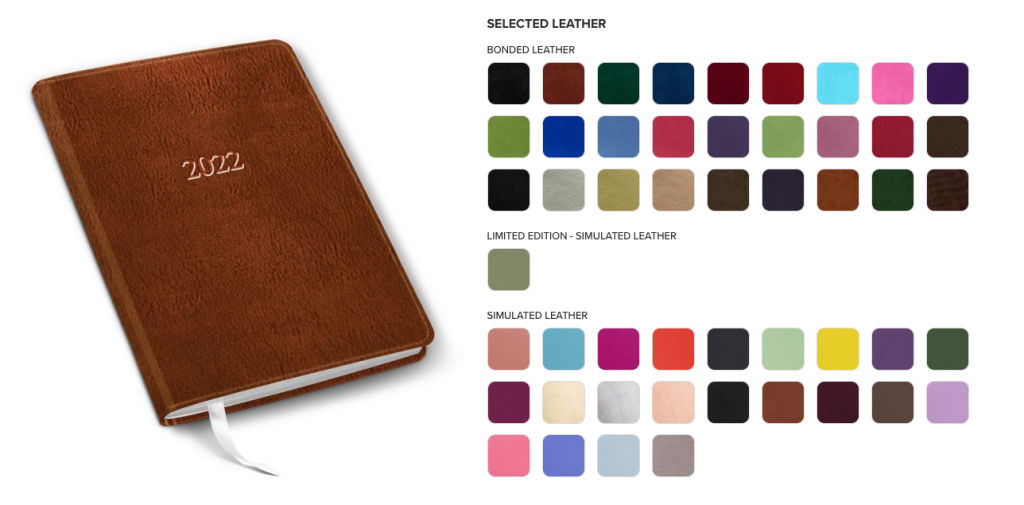 Everyone loves the classics! Our planners are no different. Our 8" x 5 ½" desk planners are the most popular product we offer. These planners come in a variety of formats, including daily, weekly, or monthly. With so many options available, you're bound to find the perfect fit for your schedule for up to two years.
Our desk planners are elegantly bound in your choice of a simulated or bonded leather cover available in a rainbow of colors. These planners have all the reference details one could want with ample notes, references, and world maps sections. With features like gilded page edges and a ribbon bookmark, our desk planners make an attractive addition to your home or office.
Large Planners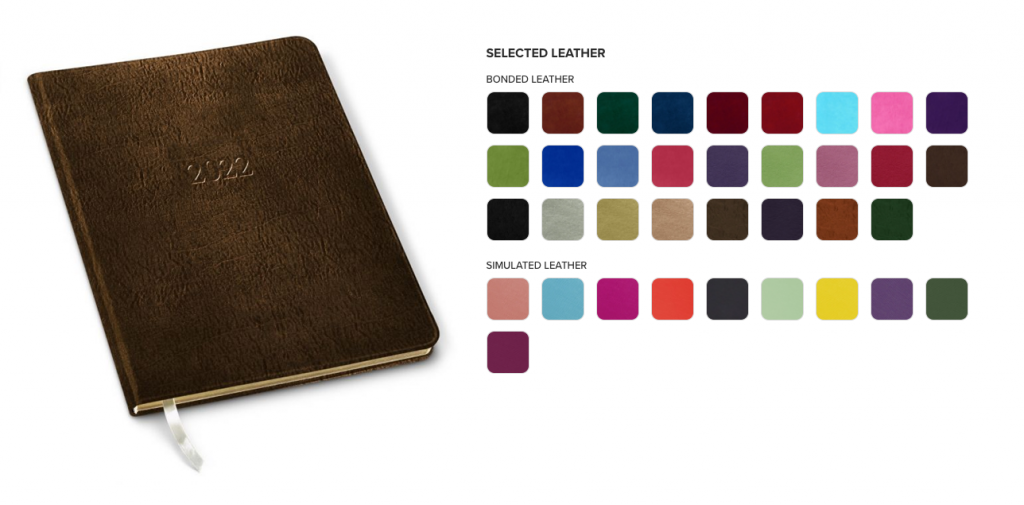 Enjoy all the same features as our Leather Desk Planner in a slightly larger format at 9 ¾" x 7 ½". Available in a weekly or monthly format, these planners are perfect for those with more on their plate or a preference for open spaces.
Each is elegantly bound in a soft cover with your choice of bonded or simulated leather. With gold gilded edges and personalization available, you can customize your planner to fit your style. They have all the reference details you could want with ample notes, references, and world maps sections.
Pocket Planners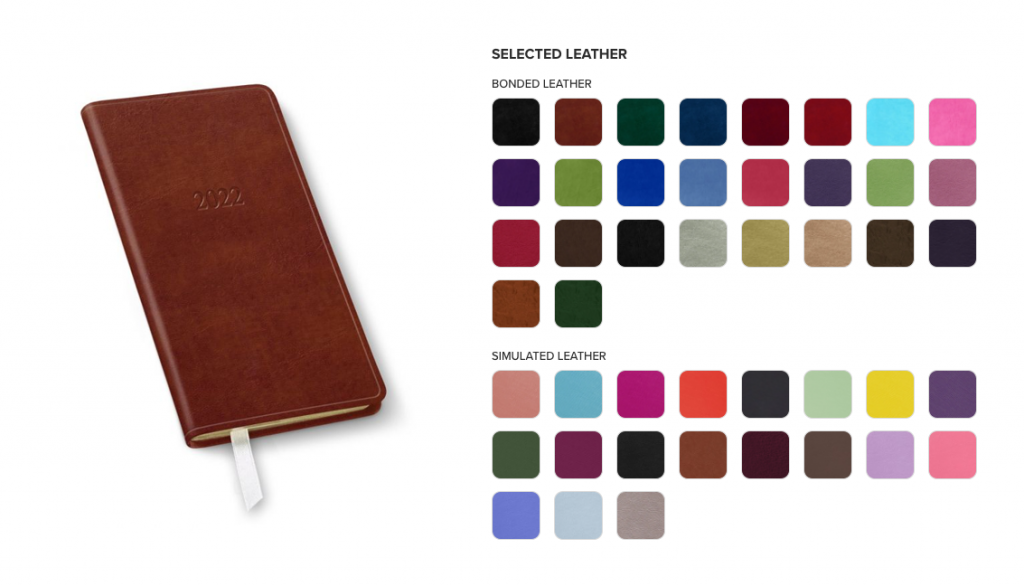 If you're looking for something a little more mobile, our pocket planner may be just what you need. At 6" x 3 ¼", it has all the features of our Leather Desk Planner in a compact size that easily slips into a purse, coat, or shirt pocket. It comes in either monthly or weekly formats. Its gold gilded page edges add a touch of class to this accessory.
It may be small, but it comes with all the reference details one could want with an ample notes and references section. It also has a world map printed in subtle colors. Elegantly bound in your choice of simulated or bonded leather, it makes a stylish accessory to go with any outfit. You can personalize your pocket planner with your name or initials to make it your own.
One customer was especially pleased by the choice of colors we offer:
"The only planner I will use year to year. I refer to my used planners year after year. Easy to carry and store. Thank you for expanding the color choices!"
Harbor Planners
While Gallery Leather is our Premium brand, with a full line of products, we understand we also have a customer base looking for more affordable products that still deliver the quality craftsmanship Gallery leather is known for. To meet that need, we launched Harbor.
This line of planners is designed to provide exceptional value without sacrificing quality. We handcraft Harbor products in Maine, using high-quality imported and domestic materials. We are so confident in the quality of our work we guarantee your Harbor planner for life.
Here is some more information on our Harbor Planners:
Harbor Large Planners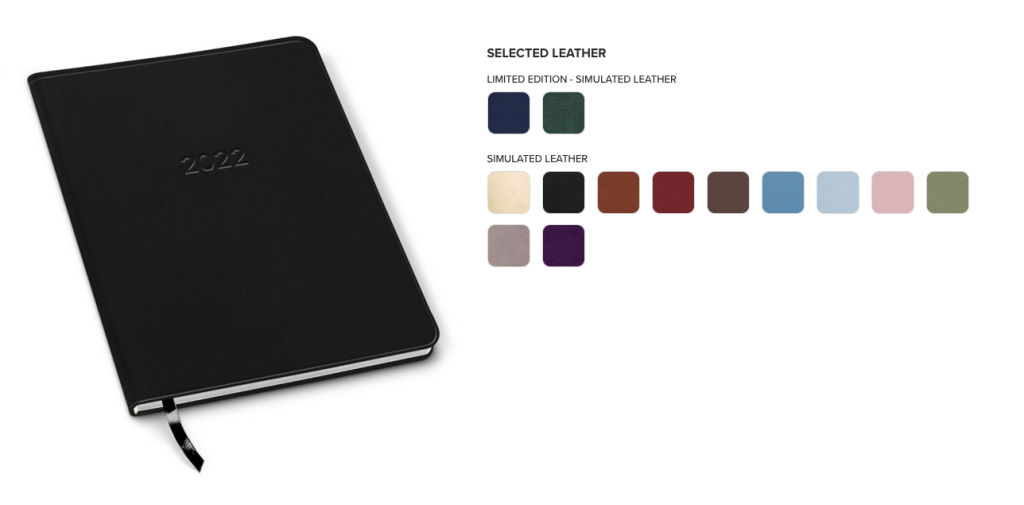 Start the season off right with one of our Harbor large planners. This planner is large enough for jotting down all of your appointments, events, or anything life may have in store for you. It is available in either a weekly or monthly format. Its ribbon bookmark is ideal for keeping one's place.
Everything you need in one book large enough to fit your schedule yet small enough to take with you wherever you go. Its larger format provides plenty of writing space no matter how much you planned. These planners also include helpful sections such as ample notes, references, birthdays, events, and world maps.
Harbor Desk Planner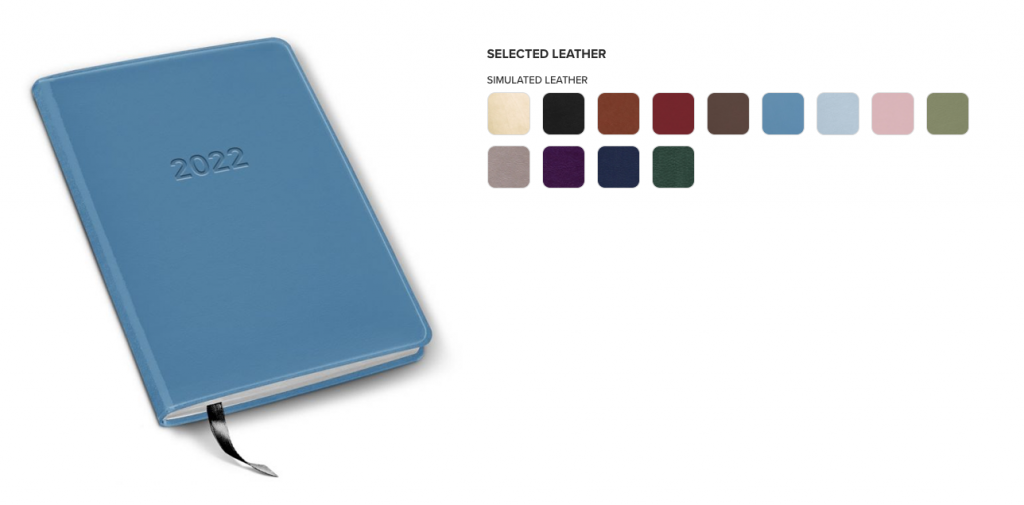 Much like its larger counterpart the large weekly, our Harbor desk weekly planner contains all the same useful features conveniently tucked into a compact size. It's perfect for those who prefer a smaller book to carry.
The "at-a-glance" monthly section and open format weekly section give you the space needed for whatever your weekly agenda includes. It also includes helpful sections for ample notes, references, birthdays, events, and world maps. Its ribbon bookmark is ideal for keeping one's place.
Harbor Pocket Planner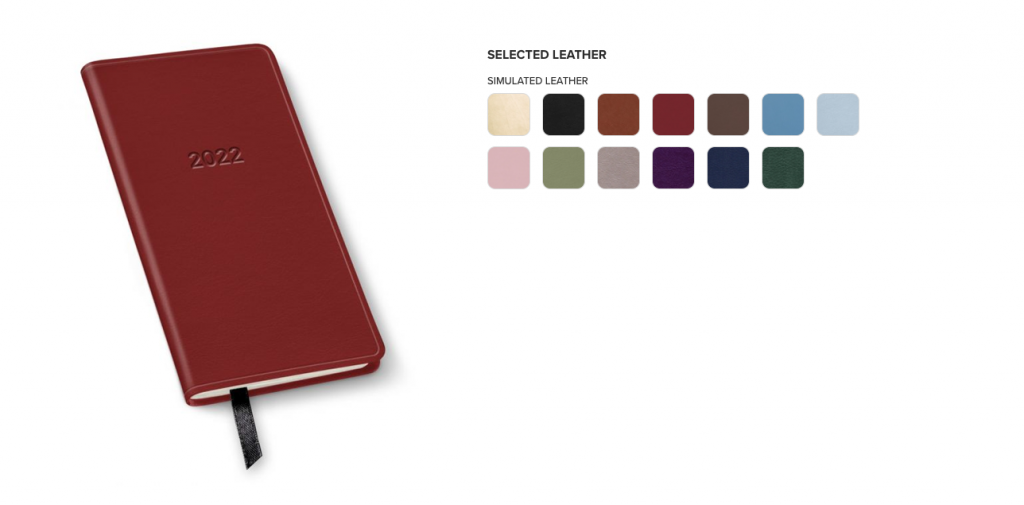 Rid yourself of the bulky planners you may be used to. Give our pocket-sized planners a try today! The Harbor pocket weekly planner is the most conveniently sized planner to tuck away in a shirt pocket or purse. Its durable faux leather cover withstands daily wear and tear from your busy schedule.
It has the same interior format as our desk and large weekly planners, only slightly smaller. Inside are the same ribbon bookmarker, reference sections, and maps. Also inside are both the "at-a-glance" and weekly formatted sections. It gives you plenty of space to write considering this planner's portable design.
No matter your schedule or style, Gallery Leather is sure to have the right planner for you. Like all of our products, we handcraft these planners in Maine using high-quality imported and domestic materials. We took great care and pride in making these planners so that you can take great pride in owning them. If you'd like to purchase your own planner, you can visit our website to see our selection today.